Beer, Wine & Discount Liquor in Phoenix, AZ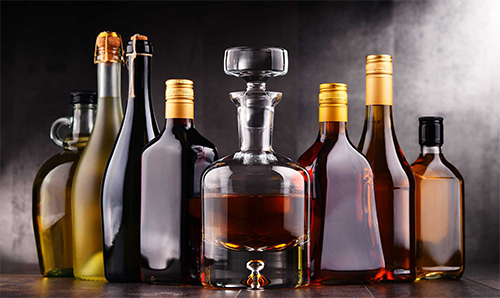 AZ Liquor has one of the best reputations in the region when it comes to alcohol selection. Not only do we carry all your favorites, we've got labels you've never heard of but will love to try! Our staff is also one of the most knowledgeable in Phoenix, Paradise Valley, Scottsdale, or Tempe, AZ. Ask us questions about a wine you're admiring or a liquor you're searching for and we'll make sure you go home with exactly what you want.
We're so much more than a wine or beer store—we're your one-stop shop for alcohol—from A to Z. Stop by or drive-thru today!
Beer and Wine
Whether you're picking up a case of beer for a football party or want a craft brew to share with a few close friends, you'll find it here. We sell by the bottle, growler, six-pack, case and more—everything from lite beer to microbrews, to specialty releases from breweries across the country!
Fancy yourself a wine drinker? Whether it's a box wine or a late-vintage bottle, port or pinot, we've got it on our shelves. We're the wine store local-area residents visit when it's time to uncork a toast and celebrate life's best moments.
Hard Liquor and Spirits
Not only do we offer a tremendous selection of both dark and light liquors, our inventory is especially weighted toward tequilas and scotch. If you love to sip a spirit, we've got plenty of great options to choose from. We also have a great selection of special releases, rare finds and unique bottles, for those who want a little adventure with their drinking experience. From affordable name brand bottles to top-shelf, superior-quality spirits, we've got it all.
Tobacco and Vape
If you're the type of connoisseur who prefers a smoke with their drink, don't forget to pick up fine tobacco products while you're with us. We also stock a selection of vape products, for those who prefer smokeless alternatives. Like all the liquor we sell, you'll find a little something for everyone in our smokables department.
Drive-Thru Convenience
Don't have time to stop in and browse our shelves? No problem! Swing by AZ Liquor and go through our drive-thru! Tell us what you want, pay at the window and we'll bring it to you, so you can get back on the road to wherever you're headed.
Questions about our selection of discount liquor? Looking for something in particular? Contact us and give us a call at 602-992-1130 and we'll be happy to answer your questions. Cheers!